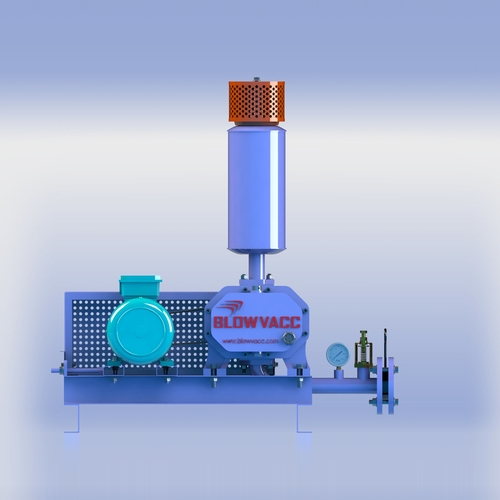 Roots Blower
Product Code : BV424447
Price And Quantity
Unit of Measure

:

,
Product Description
BLOWVACC ROOTS TWIN LOBE TYPE 100% OIL FREE BLOWERSBASIC BLOWER DESCRIPTION BLOWVACC
Blowvacc Roots Blower/Pumps means reliability, availability and maintainability. BLOWVACC is committed to supplying our customers with reliable products manufactured with state of the art technologies. Production and inventory are being scheduled and controlled to ensure these units will be available when you need them. BLOWVACC blowers are heavy duty rotary blowers designed with vertical and horizontal installation requirements. The compact study design is engineered for contniuous service when operated in accordance with speed and pressure ratings. Antifriction bearings are used with roller bearings at the drive shaft to with stand v-belt pull.
A complete range of standard Air blowers is available for flow rates from 25 m3/hr to 10,000 m3/hr in single stage and parallel configuration for working pressure range up to 1 kg/cm2. They are available as total package units , ready to install or as bare blower units for replacement.
DESIGN AND CONSTRUCTION FEATURES
Improved volumetric efficiency and reduced operating temperature
Thrust control splashed oil lubricated spur timing gears
Balanced,precision machined twin lobe impellers
Low noise level, less operating power required
Connections in standard pipe sizes
Rigid one-piece cast iron casting
Design for gas services
Anti friction bearings
APPLICATION OF BLOWVACC ROOTS BLOWERSFor Air & Gas Blowers
Milling & Baking : Blending & Conveying
Resin & Plastic : Processing & Conveying
Power Generation : Fly Ash Conveying & Aeration
Chemical : Vacuum Processing & Conveying
Waste water : Aeration & Backwashing
Pulp & Paper : Chip Conveying, & Process Vacuum
Cement & Lime : Fluidization & Conveying
Oil & Gas : Gas Collection & Sparging
Soil Remediation : Vacuum Extraction & Sparging
Dry Bulk Handling : Trailer Unloading & Extraction
Glass : Burner Air & Mould Cooling
Vacuum Loader : For emptying Septic Tanks
Aquaculture : Aeration for fish farm
Electroplating : Aeration of plating tanks
For BLOWVACC Mechanical Vacuum Boosters (Roots Pump)
Industrial Processing:Filling Automotive Fluid Systems, Impregnating Windings, Drying Textiles, Sterilizers Evacuating Refrigeration Systems, Holding & Chucking, Central Systems for Electronic Assembly, Light Bulbs Manufacture, TV Tubes Manufacture
Chemical & Pharmaceutical: Degassers, Vacuum Distillation, Vaporators, Crystallizers, Vacuum Filters, Vacuum Dryers.
Vacuum Furnace Industry: Heat Treating, Hardening, Melting, Optica Coating, Metallizing, Degreasers
Food Processing Industry: Vacuum Packaging Fresh & Cooked Meats, Freeze Drying, Vegetable Oil Processing, Sugar Refining, Poultry Evisceration, Vacuum Cooling
Semiconductor Industry & Solar Application: Crystal GrowingL, PCVDIon, Implantation, Sputtering, Plasma Deposition Si wafer solar cells, Thin Film Solar cells, Si/Ge wafer ingot, Solar Metrology & Inspection
Electrical Industry: Transformer Drying & Service, Transformer Oil Purifiers, Vapor Phase Drying
Product Details:
| | |
| --- | --- |
| Power | ELECTRIC |
| Pressure | Medium Pressure |
| Speed | 1400 |
| Blower Type | Roots Blower |